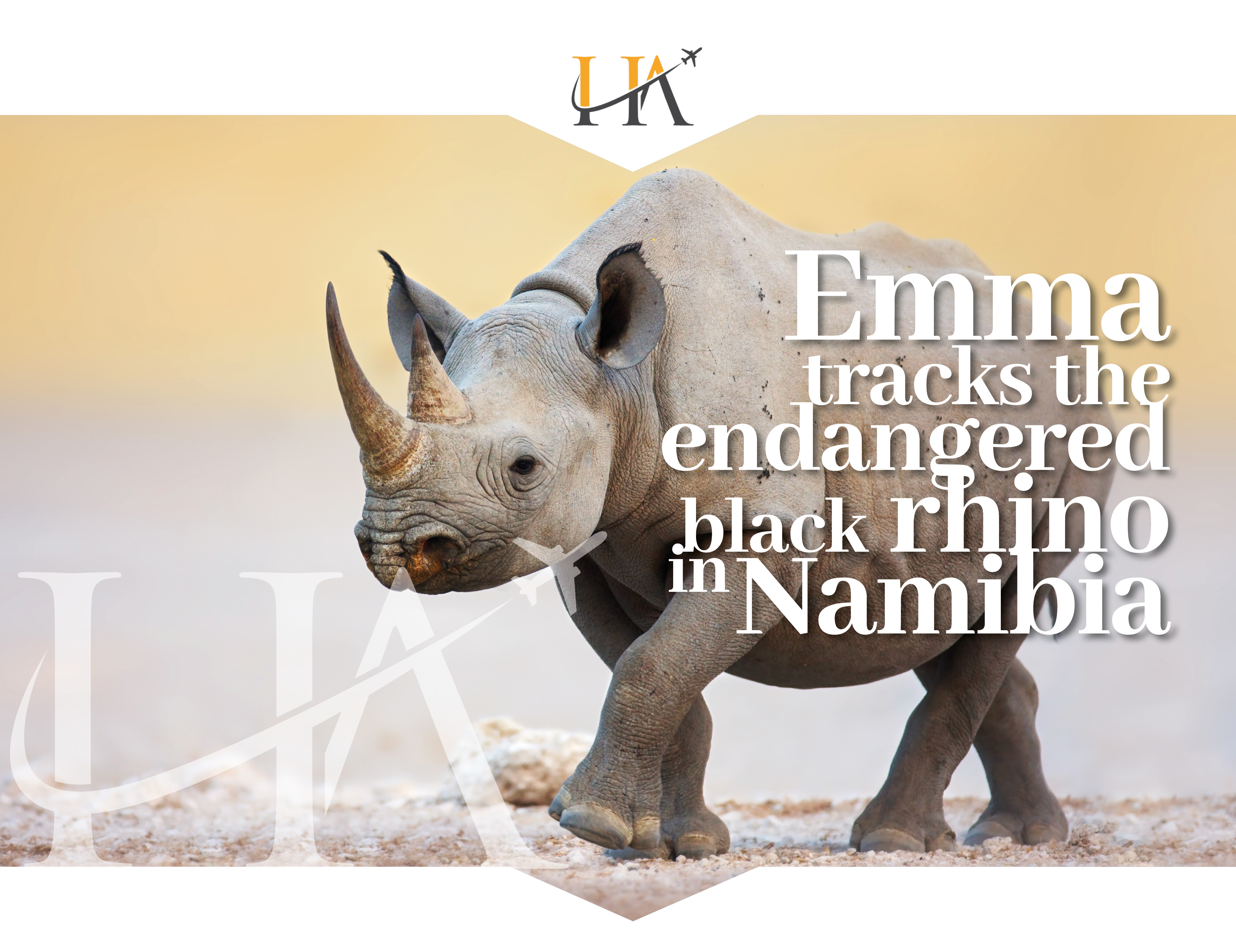 Since the 1960s the world population of black rhino has reduced from 100,000 to less than 5,630, with 34% of them found in spectacular Namibia. Join Emma, our Namibia specialist here at HA, as she treks on foot towards an encounter she'll never forget…
A journey to another world
As the 4×4 rumbled along the dirt track, I was transfixed on the surreal landscape outside the window, all too happy to lose myself in the vast expanse of open desert stretching off in every direction as far as I could see. As the sun sunk lower in the sky, illuminating the Mars-like plains in various shades of orange and red, my excitement rose. Finally I was going to experience something I'd always dreamed of; seeing the endangered wild, black rhino on foot – if we could find them!
Suddenly Johannes, my driver, hit the brakes and stopped the vehicle. "Shhhh! Listen!!" he said. Hearing nothing, I was confused. He was laughing at me now. "That is the magic silence of Namibia," he said. "Take it in." I smiled when I realised he was right, the 'sound' of the desert really was something very special indeed.
The road markings got fainter as we drove further into the Palmwag Nature Reserve, home to the last-known wild population of black rhino. Before long, the safari tents of the remote Desert Rhino Camp emerged on the horizon like a mirage. As I entered this candle-lit desert oasis, the welcome from the staff was so warm, I felt at home immediately.
After an indulgent dinner under the brightest canopy of stars I've ever seen, our small group was given a briefing by the trackers from the Desert Rhino Trust. We huddled by the warmth of the bonfire as they explained how many of them used to be poachers and had been rehabilitated by the Trust – transforming their lives and now working tirelessly to save the black rhino species. The next morning they would set off early to look for fresh rhino tracks and we would join after a leisurely breakfast. My skin tingled in anticipation, it was suddenly all very real.

The day had arrived 
The very smiley Alex was our guide the next morning. His radio crackled with directions from the trackers as he drove us across dry river beds through the otherworldly terrain. As we drove, Alex pointed out a herd of desert elephant walking slowly towards the horizon. Two of Namibia's symbolic animal, the Oryx antelope, watched silently as we passed and in the distance, four giraffe ran together as if in slow motion. This would normally be a highlight, however today our focus was on the black rhino we all longed to get a glimpse of.
It wasn't long before we met Joseph, our tracker, and it was time to follow the traces on foot to give us the best chance of getting a glimpse of a rhino. As we trekked over the red hills of the Namibian desert, the African sun beating down on us with its relentless rays, the excitement amongst the group was building. We inched around small rocky outcrops as Joseph explained that the time we would spend with the rhino would be limited. The focus on respecting the boundaries of the wildlife is so important and at HA we always ensure any wildlife excursions we recommend follow the same protocol.
An unforgettable encounter 
Suddenly, Joseph stopped and raised his hand. He turned to us as he smiled and pointed. There, looking right in my direction, just 150 yards from us was a magnificent female black rhino. Joseph signalled to us to stay still and be very silent. "Try not to move too much," he said, "she's trying to find your scent."
Rhino have very poor eyesight, but their hearing and sense of smell more than make up for it. Joseph reassured us that, just so long as the wind blew from the opposite direction, it was safe enough to stay. But, with her ears and nose twitching, trying to find a scent, the adrenaline I felt was palpable. It felt as though she was looking right at me, but Joseph assured us we were safe. That didn't stop my pulse quickening as this spectacular black rhino's eyes seemed to stare straight into mine.
Being on foot in the company of such a rare animal was an awe-inspiring moment I'll never forget.
And then it got even better. As Joseph quietly explained how they're able to ID each rhino, she took a few steps to the side and we saw it. She had a baby! He was completely oblivious to our presence, happily sniffing rocks and pushing against shrubs. I could have silently watched them for hours, so honoured to be so close to them. But all too soon, Joseph told us it was time to leave them be. I turned back to savour one final glance at the mum and her baby before we slowly backed away.
Africa is one of the most enchanting continents on earth. And for me, Namibia is the very special jewel in its crown. Namibia is surreal and almost ethereal in its vastness and beauty. If colossal starry skies, dramatic coastlines, endless sand dunes, far-reaching deserts, incredible wildlife and epic adventure activities are on your wish list for 2021, you won't go wrong here.
Give Emma a call on 01242 253 073 to hear more about her Namibian adventures and start thinking about one of your own. She's got all the hints, tips and insider knowledge to ensure it's a holiday to remember! 
We know things are still fairly uncertain right now. But, we're very much here and on hand to answer any questions you may have about getting away on a much-needed holiday later this year. Explore more here, request a free quote or ping us an email. We'd be so happy to hear from you.